EZIscreen - Screen printing made easy
EZIscreen screen printing equipment is low cost system using StencilPro films to create a screen without chemicals or solvents, no emulsion coatings and leaves you with a professional screen you can keep and reuse.
On this page:
EZIscreen replaces Print Lamps and NEHOC Screen Printing Kit
Compare costs - see what is really costs to make a screen
Exposure Type
Emulsion Life
Emulsion Coating
Degreasing Screens
Pinholes
Water
Clean-Up*
Reusable
screens
Eco-friendly"
EZIscreen using StencilPro Films
N/A
Emulsions: Speedball using Diazo
4 weeks
Emulsions: Commercial/ Photosensitive
<1 year
Thermal: Print Lamps
N/A
Thermal: Thermal-Copier
N/A
Thermal: GOCCOPRO Digital
N/A
* Speedball using Diazo emulsions require a solvent cleaner to be used prior to clean-up, therefore not pure water clean-up
" Print lamps are not eco-friendly. Emulsions use solvent cleaners that should not be washed down household drains.
Compare
See for yourself how StencilPro™ saves time with no emulsion coating and a fast exposure time.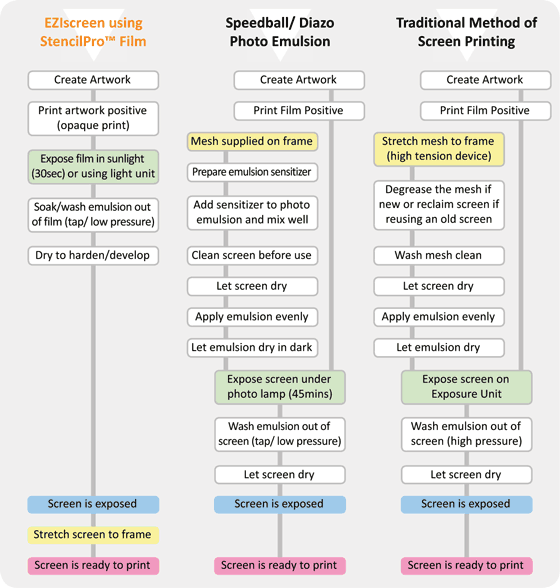 EZIscreen Kits replace Print Lamps
StencilPro™ replaces Print Lamps for screen exposure - no more wasting lamps and no special imaging machine to purchase. You can use all your existing frames, squeegee's and inks.
StencilPro™ films expose outside in sunlight or inside under fluro lamps, developing and washing out in water - faster and easier than Speedball, Diazo and traditional photo emulsions which use chemicals.

No special exposure equipment - use sunlight or inside under a fluroescent lamp
No coating emulsions - no mixing solvents or chemicals then waiting
Water clean-up with fast exposure times (under 1 min in sunlight1)
Keep and store your screens - reuse your frames saving $$ on equipment costs
Use your existing RISO & NEHOC frames, squeegee's and inks