EZIscreen Opaque Storage Container
Product Code: EZI-OSC and EZI-OSC-XL
An EZIscreen Opaque Storage Container has 3 uses that save time and make useing the system faster and easier:
Exposing StencilPro™
Cover StencilPro™ (with artwork attached inside the Magnetic Exposure Frame) film prior to exposure, lifting the lid to begin exposure and replacing at the end of exposure. Using this method stops light entering the film from the side or at an angle and unknowingly extending your exposure times, making it harder to washout.
Develope your StencilPro™
After exposure, StencilPro™ film is soaked in water then rinsed to develope the design. The Opaque Storage Container is used to hold water for soaking the film immediately after exposure - the
Store your StencilPro™
StencilPro™ film must be stored in a dark cool place - the opaque dark secure container provides maximum storage life by stopping light entering when your not using your equipment, keeping it a fresh as possible.
Usage
Contents/ Technical
Support/ FAQ's
Key Features
Black opaque constructions stops light
Multiple uses from the one great product
Use the lid to cover your film before exposure
Usage
Cleaning
Use soapy water and dry with a lint free cloth. Do not use glass cleaners, solvent cleaners, mineral turpentine, abrasive brushes or scrubbers as this will damage the product.
Storage
When using to store StencilPro™ always store undeveloped film in the black bag, in the dark and away from heat/fluroescent light/ direct sunlight.
Ideal storage temperature is between 5 to 25° Celsius.
For hot/humid areas place in refrigerator or cool room.
Once developed the stencil is no longer sensitive to light and may be stored in clear plastic bags or any suitable storage container.
Contents
1 x Opaque Storage Container Base
1 x Opaque Storage Container Lid
Specifications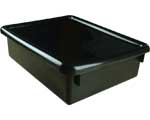 EZI-OSC
Item Weight: 260g
Length: 320mm
Width: 385mm
Height: 80mm with lid on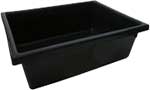 EZI-OSC-XL
Item Weight: 1.07Kg
Length: 325mm
Width: 440mm
Height: 125mm with lid on
Notice
StencilPro™ film should be stored away from heat and light sources. StencilPro™ film is a light sensitive product and has a recommended shelf life of 12 months under normal conditions. Open protective black bag under subdued lighting conditions only. Do not expose undeveloped film to U.V. or direct sunlight at any time. Avoid exposure to bright artificial light sources, especially from fluroescent tubes as this will begin to expose the StencilPro™ film. Protect from excessive heat, freezing and high humidity.
By storing StencilPro™ film in an Opaque Storage Container you maximise the normal shelf life of the product using the manufacturers recommended storage method. Neither the manufacturer or it's distributors provide a guarantee actual or implied shelf life of StencilPro™ will be reached or extended due to factors outside it's control, including but not limited to heat, light and prior exposure to light during use by the customer.
Ask a Question
Complete the Product Assistance Form for a quick reply to any question not answered in the FAQ's or training section - click here . .
Important: Use the product code listed at the top of this page.
FAQ's
There are no FAQ's for this product.