EZIscreen Trial Pack
Product Code: EZI-TRIAL
Are you using Speedball, diazo or coating screens with emulsions right now - before you even begin to expose your designs?
Our EZIscreen Trial Pack is a low cost option for you to see how fast and easy StencilPro™ Film is to use whilst continuing to use your own squeegee and inks.
Make two screens and see for yourself how much faster and easier it is to make a screen using StencilPro™.
What have you got to lose? Not much, as you'll still end up with 2 reusable screens you can keep and print again, even if you don't want to swap over to a faster and easier way of screen making with EZIscreen.
Specifications
Click icon below for details . .
Next product: EZIscreen Basic Kit
Usage
Contents/ Technical
Support/ FAQ's
Key Features
Use your existing squegee and inks
No extra exposure equipment - use sunlight or inside under a fluroescent lamp.
No coating emulsions - no mixing sensitizer, emulsions or chemicals then waiting to dry
Develop in water with fast exposure times (under 1 min in sunlight)
Usage
Create Artwork
Print your design using ink jet, laser printer, photocopy, hand draw with texta or market pens - anything as long as it's opaque.

Place artwork face down
Artwork goes face down against the shinny side of the film.
Expose in light
A tight bond is required between the artwork and film, use Exposure Frame for best results.
Place in sun, time according to timetable given in StencilPro™ instructions.

Soak and rinse in water
Place imaged screen into water to soak - keep away from bright light during this time. Then brush out emulsion. Re-expose to harden film before use.
Ready to print
Your design is now ready to print. For screen printing mount to a plastic frame, for stenciling/ brushing/ spraying attach using tape.
Cleaning
You should never let ink or paint dry in your screen, as this is very hard to clean without damage.
Avoid ink drying in the screen by either:
a) Cleaning the screen (water or solvent cleaners depending on your ink type) when you pause printing
b) Perform a clearing print (see website) to remove ink from design area between each print
If several StencilPro™ films become stuck together do not pull them apart, soak in water for a few minutes until they come apart naturally.
Storage
Properly stored StencilPro™ has a shelf life of at least 12 month. Always store undeveloped film in the black bag, in the dark and away from heat/fluroescent light/ direct sunlight.
We recommend storing undeveloped film inside the Opaque Storage Container for added protection against light.
Ideal storage/ usage temperature is between 5 to 25° Celsius. For hot/humid areas store inside Opaque Storage Container and place in refrigerator or cool room.
Store developed film flat, do not fold or bend.
Once developed the stencil is no longer sensitive to light and may be stored in clear plastic bags or any suitable storage container.
Cleaning
See StencilPro™ product page - click here . .
Related Products
Contents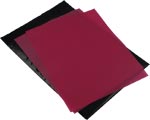 StencilPro screeen equipment:
1 x StencilPro™ Standard Sheet (218x279mm/ 8.5x11")
1 x StencilPro™ HiRes 200Mesh Sheet (218x279mm/ 8.5x11")
4 x A4 Multi-function Artwork Transparency
Frame mount:
1 x Small Plastic Frame (120 x 180mm)
1 x Large Plastic Frame (180 x 250mm)
Print blade:
1 x 6"/153mm EZIblade Plastic/Rubber)
Support, training and information:
IS06: Frame Mounting Guide
IS25: Screen Printing Technique
IS48: EZIscreen Usage Guide
Specifications
Item Weight: 240g
Length: 315mm
Width: 245mm
Height: 15mm
Notice
CAUTION - StencilPro™ IS A LIGHT SENSITIVE MATERIAL
Open protective black bag under subdued lighting conditions only. Do not expose undeveloped film to U.V. or direct sunlight at any time. Avoid exposure to bright artificial light sources, especially from fluroescent tubes as this will begin to expose the StencilPro™ film. Protect from excessive heat, freezing and high humidity.
StencilPro™ film should be stored in an Opaque Storage Container away from heat and light sources.
Ask a Question
Complete the Product Assistance Form for a quick reply to any question not answered in the FAQ's or training section - click here . .
Important: Use the product code listed at the top of this page.
FAQ's
There are no FAQ's for this product.