EZIscreen Complete Fabric Kit
Product Code: EZI-FABKIT
Our most popular beginners kit with both StencilPro™ film grades, frames, squeegee and all the equipment needed for printing white, black, green, blue brown in fact you can print any coloured fabric you like - it's all there right out of the pack to start printing straight away.
The right equipment first time.
Do other kits provide you table adhesive and height adjusters to achieve solid results onto black?
Unlike other brands of starter kits, we include all the right equipment, all the hints, all the tips and all the trade secrets straight away, no more items to buy. In fact we even give you both our light and dark printing lessons onto white and black fabric to have you printing like a professional straight away!

Faster, easier and cheaper!
With EZIscreen there is no coating emulsions onto your screens first (like Permaset, Speedball and Diazo) simply start exposing your designs instantly under sunlight = faster, easier and cheaper.
Keep your screens, store them for later use and save on materials.
With EZIscreen you can keep and reuse your screens - no destroying them to make a new design! Yes that's right, you don't have to destroy your designs and reclaim the screens each time you would like a new design, with the EZIscreen can remove your StencilPro™ film once you have finished printing, store the screen for later use and reuse your frame for a new design.
- Reusing your frames saves you $$ each time you make a screen and importantly you don't have to remake a design when you want to reuse it, simply pull is back out, attach to your frame and start printing again whenever you want.
Our complete kit contains:
A long life professional squeegee is included for superior printing results
Samples of both standard and opaque fabric inks
Table adhesive to stop fabric moving under your prints = no blurring or smudges
Printing lesson #2 for dark fabric with a black T-shirt is included
Specifications
Click icon below for details . .
Previous product: EZIscreen Starter Kit
Next product: EZIscreen Single Colour Package
Usage
Contents/ Technical
Support/ FAQ's
Key Features
Print A5 and A4 straight away
No extra exposure equipment - use sunlight or inside under a fluroescent lamp.
No coating emulsions - no mixing sensitizer, emulsions or chemicals then waiting to dry
Develop in water with fast exposure times (under 1 min in sunlight)
Prints both light and dark colours straight out of the pack - no extra equipment necessary
Usage
See individual products for details.
Cleaning
See individual product pages for further details.
Storage
See individual product pages for further details.
Contents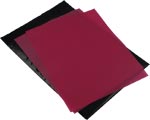 StencilPro screen equipment:
4 x StencilPro™ 110Mesh Sheet (218x279mm/ 8.5x11")
10 x A4 Multi-function Artwork Transparency
1 x EZIscreen Plastic Exposure Cover (240x305mm)
1 x EZIscreen Opaque Storage Container
1 x EZIscreen Digital Timer
1 x EZIscreen Washout Brush
2 x A5 Small Plastic Frame ID: 20x190mm
1 x A4 Large Plastic Frame ID: 180x250mm
1 x A4 Small Metal Frame ID: 180x250mm
Squeegee: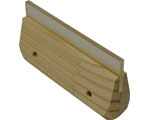 1 x 170mm Professional 'Long Life' Squeegee
1 x 6"/153mm EZIblade Plastic/Rubber)
Printing accessories:
4 x Wooden Ink Applicators
1 x Table Adhesive (sample size)
1 x Fabric Ink Retarder (sample size)
5 x Plastic Height Adjusters (for off contact printing)
1 x Screen Masking Tape (24mm x 75M)
White T-shirt for Printing Lesson #1
Coloured T-shirt for Printing Lesson #2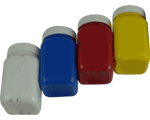 Inks:
4 x 250ml Standard Fabric Ink - Lemon Yellow, Mid Red, Mid Blue & Black
1 x 250ml Opaque Fabric Ink - White
Support, training and information:
Printing Lesson #1 for Standard Fabric Inks
Printing Lesson #2 for Opaque Fabric Inks
IS25: Screen Printing Technique
IS34: Printing Opaque Fabric Ink
IS48: EZIscreen Usage Guide
Specifications
Supplied: Pack
Item Weight: 4.42Kg
Length: 340mm
Width: 275mm
Height: 120mm
Notice
CAUTION - StencilPro™ IS A LIGHT SENSITIVE MATERIAL
Open protective black bag under subdued lighting conditions only. Do not expose undeveloped film to U.V. or direct sunlight at any time. Avoid exposure to bright artificial light sources, especially from fluroescent tubes as this will begin to expose the StencilPro™ film. Protect from excessive heat, freezing and high humidity.
StencilPro™ film should be stored in an Opaque Storage Container away from heat and light sources.
Ask a Question
Complete the Product Assistance Form for a quick reply to any question not answered in the FAQ's or training section - click here . .
Important: Use the product code listed at the top of this page.
FAQ's
There are no FAQ's for this product.